A private equity course is a popular investment option for those looking to learn more about the private equity business and industry. Private equity is a type of investment that involves buying a company and then managing it, often for a fee and profit sharing. Private equity courses are designed to help professionals learn about PE basics, including how to evaluate a company, what to look for in a potential investment, and how to structure a deal. Private equity courses can benefit professionals interested in investing in startups or businesses and managing these investments. This article will discuss the private equity course and what you need to know about it.
Private Equity Course types
If you are interested in investing through private equity or building your career in PE Business, you first need to take a course. Private equity courses teach investors how to evaluate and invest in private companies. Private equity courses can be taken online or in person.
There are several private equity courses available, including the following: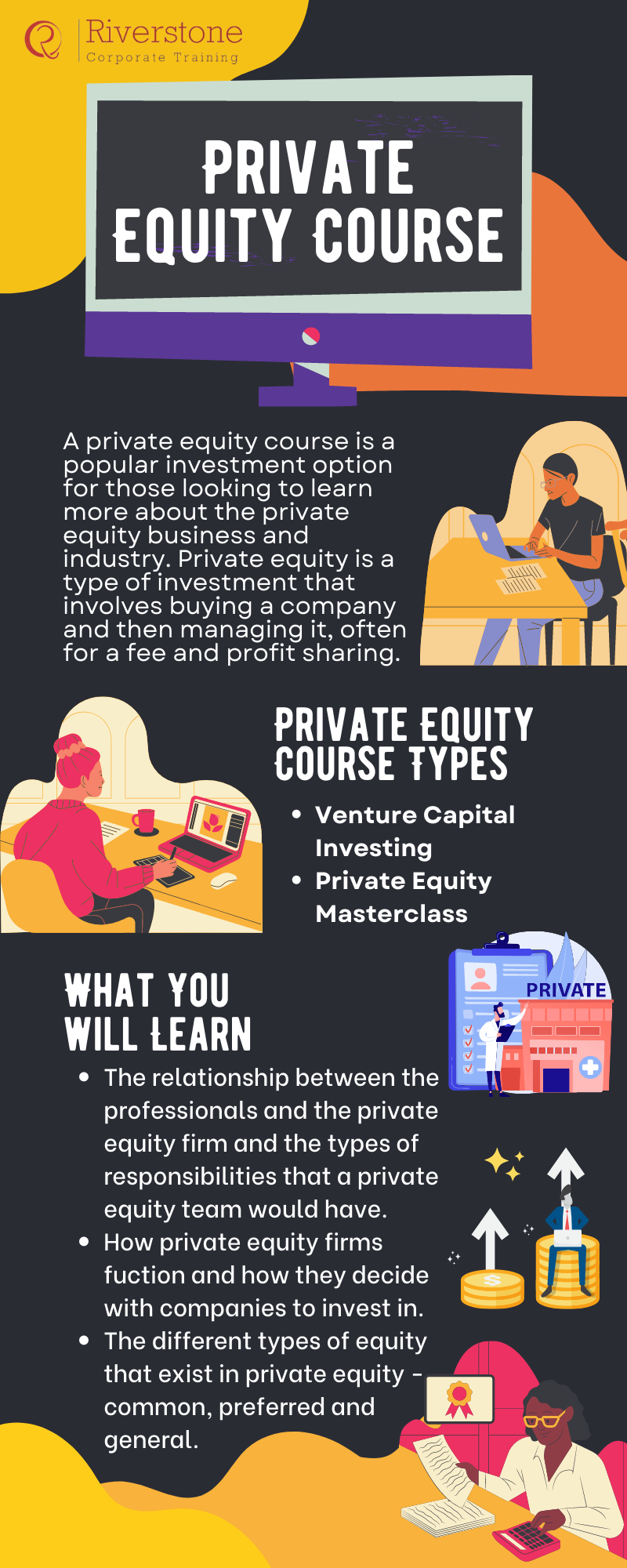 What You'll Learn in a Private Equity Course
Private equity courses generally focus on two main topics: the structure of private equity and the business model of private equity firms. You may also cover other subjects that interest you, such as how private equity firms evaluate companies, how they structure deals, or how they manage their funds. Private equity courses can cover these topics in various ways, depending on your course. However, you can expect to learn about the following topics in a private equity course:
Why Should You Take a Private Equity Course?
Private equity is a lucrative field that offers the chance to become a millionaire by simply investing money or building a successful and rewarding career. For example, many people do not realize that the average ROE for private equity firms is approximately 20%. In comparison, mutual funds take an average of around 6% (and even lower in some cases). For this reason, many want to become private equity professionals to profit from the billions of dollars spent by private equity firms and venture capitalists every year. Also, as a professional, there is a lucrative salary in the range of SGD 100,000 to 300,000, plus there is a profit-sharing termed as carrying in the private equity industry. However, private equity is not for everyone.
First, the required education and experience are extensive, and not everyone is qualified to do the work.
Second, private equity firms generally only take a small percentage of successful applicants, leaving many people wondering if it's worth it.
Which Type of Private Equity Course is Right for You?
Private equity is very specialized and unique knowledge, and not many people are experts to train professionals in this field. Try taking a course that focuses on the detailed understanding and expertise of the private equity business. Riverstone Training Singapore offers a unique Private Equity Course, which is well designed over the 3 days and provides comprehensive and detailed knowledge about the course. Please refer to our public training page for more information about the private equity course https://riverstonetraining.com.sg/etn/
Private equity is a huge industry full of opportunities for those with the proper education and experience. To get into the field, you'll need to invest time and money in building the right skills. When choosing a private equity course, remember that the type of private equity firm you want to work for may determine the type you want to take.
If you're looking for a private equity course from a reputable training company, go no further than the Riverstone Training Institute. This is one of the most incredible training courses attended to and valued by professionals from many industries.