Due-diligence training is necessary for businesses operating in risky sectors or industries. This helps the company to understand the risks associated with using there and mitigate them. It also allows management to check if the business has identified any potential risk factors and prepared mitigation plans in case they emerge. Due-diligence training is vital when starting a new business, expanding into new markets, or partnering with another company. It can help uncover risks that might not have been apparent before and prevent future problems from arising through due diligence on another company's practices. Therefore, if you plan to expand your operations, partner with other companies, or sell services to a specific industry, you should know what due diligence entails and how it can help protect your company from potential negative consequences. This article will cover all the essential information you need to know about conducting a due-diligence training program.
Due diligence is researching and analyzing a company or a project before entering into a formal agreement. It refers to a method of assessing the financial health and legal and operational structure of the people or entities you're considering doing business with. Due diligence is intended to eliminate risky relationships. For example, a car dealer wants to buy a used car from a private seller. The car dealer thoroughly searches the vehicle and checks the car's history. When the car does not account for any significant collision, the car dealer may feel confident buying the vehicle. This is one of the examples of a due diligence procedure necessary for all stages of business growth. A business regulator will expect all types of businesses to conduct due diligence training when they wish to expand their operations or enter new markets.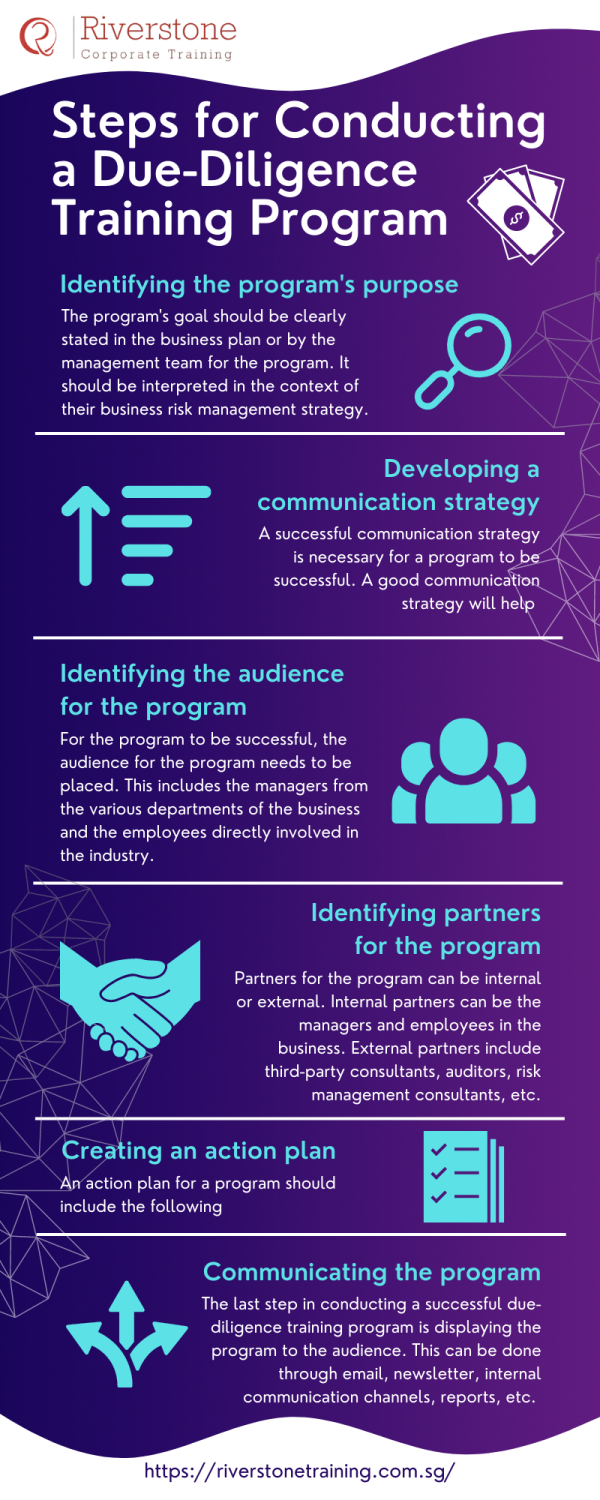 Types of Due-Diligence Training Program
Due-diligence training programs can be divided into two categories based on the length of the program.
Why Conduct a Due-Diligence Training?
Due diligence is a vital part of investing in any company or asset. It helps you understand the company's financial health and assess the potential risks associated with the operation of the business. In this way, mitigate risks and minimize the chances of future problems arising. The primary reason for conducting due diligence training is to understand your business's risks and identify potential areas for risk mitigation. This helps you know your business's risk profile and develop plans for mitigating risks if and when they emerge.
Considerations for Conducting a Due-Diligence Training Program
The primary objective of conducting a due-diligence training program is to create awareness among employees about the reason and process for conducting due diligence when entering into business relationships or partnering with other companies.
Steps for Conducting a Due-Diligence Training Program
There are specific steps required to conduct a successful due-diligence training program. These include identifying the purpose of the program, identifying the audience and the program's content, developing a communication strategy, identifying partners for the program, creating an action plan, and communicating the program to the audience.
Due diligence is a vital process in any acquisition or investment activity. It's crucial to ensure that your team knows all the risks and opportunities associated with any investment they are considering. This includes understanding the risks associated with investments in stocks, bonds, and other types. Due-diligence training programs help teams identify and address these risks and opportunities. These programs typically include a series of meetings, presentations, and exercises that focus on identifying potential risks and opportunities associated with investments.
However, if you are looking for the Best Due-diligence course in Singapore, visit Riverstone University.