What is Millennial?
The Millennial Generation, alternatively called The Generation Ys, is a phrase used for the group of people who reached their adulthood in the 21st century. So mathematically, these people are said to have born under a ballpark duration from the years 1980 to 2000. The term ballpark used because these years are quite debatable, as many researchers have different opinions. Some say the millennials fall under the category of 1980 to 2000, while some others feel otherwise as per them they millennials must be born from 1981 to 1997.
Gen Y is just one of the generations in the series of Major Generations of the Western World. Others being the Lost, the Silent, the Baby Boomers, Generation X, and the most recent Generation Z.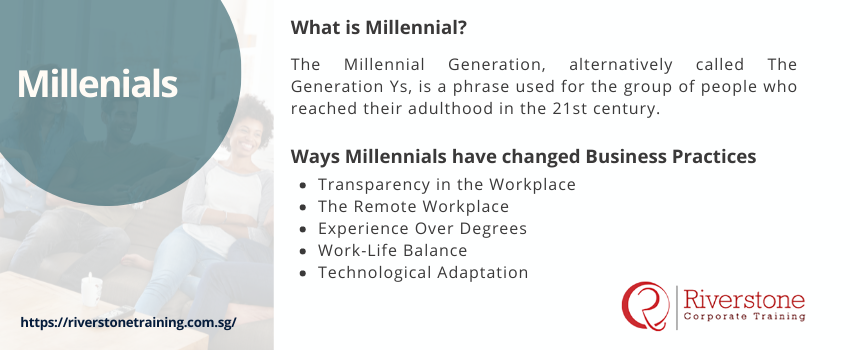 Ways Millennials have changed Business Practices
There are many ways in which Millennials have changed the work culture and altered business practices. Some of them being-
Transparency in the Workplace– It's been a few years since the trend and requirement of glass doors took off. It marked the beginning of a revolution wherein there is complete transparency between the management and employees to produce maximum efficiency and best results.
The Remote Workplace– Work from home was a concept introduced not too long ago. It helps the employees maintain a healthy work-life balance in other to increase productivity and work engagement.
Experience Over Degrees– Millennials touted to be one of the best-educated generations. But regardless of that, they prioritize skills, knowledge, and results produced over the educational qualifications.
Work-Life Balance– Millennials have a way of life. They work to live, and they don't live to work. They try not to let their work come in the form of their life. For instance, if they stay after work hours for some extra work in the office, they would like to be compensated for it.
Technological Adaptation– Digital Age was when the millennials were born. So they grew up to be pretty tech-savvy. They are more likely to adapt to the new technological changes sooner than the older generation.
Why are Millennials good for your Business?
From being hungry for power and money to having an eye for creativity and innovation, there are many reasons to declare that millennials make good business assets.
They are hungry– No, they are not hungry for food, well one could say that. But are hungry for power, for new ideas and for quenching their thirst for knowledge. They also tend to push themselves and extra inch to be creative and innovative to produce well for the company.
A right eye for Innovation– There has been an introduction to many new products that help make life easier for consumers to prove that they have the right eye for innovation.
They are not linear–They tend not to live the monotonous way but addicted to the adrenaline rush of adventure and excitement they like to be challenged. Secondly, they don't believe in traditional linear communication. They want to communicate with one another to avoid a waste of time and miscommunication.
Conclusion
So we can safely say that on contrary to popular belief, millennials are not lazy and incompetent. It's just that they are perceived that way as they prefer having a work-life balance and be productive during their time on duty as they also have the luxury of comprehensive resources at their disposal.